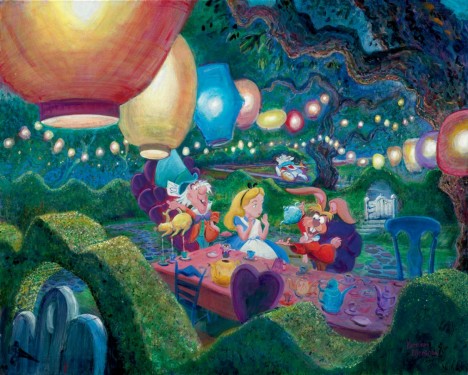 I think we all grew up reading
Alice in Wonderland,
it is a great book, and definitely a classic for every young child. For most of us as soon as we say the phrase "tea party", visions of Alice and the Mad Hatter and Doormouse drift through our memories.
For me however visions of lace and pearls and gloves, and beautiful hats come to mind. Very much a la
Anne of Green Gables,
sadly the elegance of afternoon teas really is a thing of the past for most people. Frequently I am asked to cater or plan events. Two particular events that I am asked about all the time are bridal showers and baby showers. I personally am a big fan of tea parties for both such occasions, but then again, I like tea parties for any occasion. So put on a pretty dress and enjoy some of my favorite tea party recipes!
Radish Tea Sandwiches
Ingredients:
1 cup minced radishes
1 tsp. poppy seeds
1 cup cream cheese, softened
6 slices homemade or homestyle bread
3/4 tsp. salt
24 leaves of young argula, spinach or raddichio
Directions:
Combine the minced radishes, poppy seeds, cheese and salt. Blend well. Cover 3 slices of the bread with the radish mixture-about 1/4 " thick. Top with the lettuce leaves and another slice of bread. Cut each sandwich into small squares or triangles with a sharp serrated knife. You can vary this by adding VERY thin slices of cucumber on top of the cheese, and Bibb lettuce. For a crunchy treat use Romaine. You may have left over radish mixture depending on the size of your bread.
Pear and Walnut Tea Sandwiches
Ingredients:
8 oz. cream cheese, softened
4 oz. blue cheese, crumbled
1/2 cup chopped toasted walnuts
2 (16-oz.) cans pear slices, drained
8 ozs. thinly sliced ham
Your choice of bread: mini bagels, mini croissants or slices of homemade sweet bread
Directions:
In small bowl, combine cream cheese, blue cheese and walnuts; mix well. Spread cheese filling on bottom half of the bread you chose, followed by a layer each of ham slices and pear slices. Top sandwiches with remaining halves. If you are using regular size bread, use a sharp knife to cut into quarters. Note: You can slice canned pears yourself OR use fresh pears as well
Cucumber Shrimp Tea Sandwiches
Ingredients:
1/3 cup minced green onions
1/4 cup soft cream cheese, room temperature
1/4 cup mayonnaise
1/4 cup plain low-fat yogurt
2 tsp. fresh minced dill
1/4 tsp. garlic powder
1/4 tsp. black pepper
6 thinly sliced slices of homestyle white bread
1 1/2 pounds medium shrimp, cooked and peeled
1 cup thinly sliced cucumber
1/2 cup thinly sliced radishes
6 lettuce leaves
Directions:
Combine first 7 ingredients in a bowl. Cut rolls in half horizontally. Spread the cream cheese mixture on three slices of bread. On the other three slices add the shrimp, then arrange the cucumber and radishes evenly on top. Next add one lettuce leaf to each slice, then top with the slices that were covered with the cheese mixture. Press down lightly and cut into triangles with a serrated knife. If necessary you can place a decorative toothpick in each triangle. Notes: Use your favorite type of lettuce. You can also buy small salad shrimp and diced them up into the cheese mixture instead of using the bigger ones.
Herbed Quiche Appetizer
Ingredients:
10 eggs
2 cups cottage cheese
1/2 cup flour
1 teaspoon baking powder
1/2 teaspoon seasoned salt
1 pound Swiss cheese, grated
1 can sliced mushrooms (8 oz.)
1/2 cup butter -- melted
1 tablespoon minced herbs---oregano, parsley, minced garlic, basil, chives, chervil, etc.
salt and pepper to season
Directions:
Preheat oven to 400 degrees. In large bowl, beat eggs, cottage cheese, flour, baking powder and seasoned salt. Stir in cheese, mushrooms, butter, salt, pepper and the herbs. Pour into a 13 x 9 x 2 inch glass baking dish. Bake uncovered 15 minutes at 400 degrees . Reduce heat to 350 degrees and continue baking for 35-40 minutes. Cut into bite-size squares. Serve hot or cold.
Lavender Scones
makes 12 Scones
Ingredients:
2 cups all purpose flour
1 Tablespoon baking powder
4 Tablespoons (1/2) stick) sweet, unsalted butter
1/4 cup sugar
2 teaspoons fresh lavender or 1 teaspoon dried culinary lavender, coarsely chopped
2/3 cup milk, plus extra for glaze
Directions:
Preheat oven to 425 degrees. Grease & flour a large baking sheet. Sift flour and baking powder together in a large mixing bowl. Mix in the butter until the mixture looks like fine bread crumbs. Stir in the sugar and lavender (save a small amount to sprinkle on top of scones before baking). Add enough milk to make a soft, sticky dough. Turn dough out onto a well floured surface. Cut dough into 1 inch thick rounds with a cookie cutter. Place scones on the prepared baking sheet. Brush the top of each scone with a dash of milk and sprinkle with the reserved lavender and sugar. Bake for 10 to 12 minutes, until golden brown. Serve with rose petal jam and Devonshire cream.
Chocolate Truffles infused with Orange
YIELD: 40 Truffles
Ingredients:
1/4 cup sweet, unsalted butter,chopped
1/3 cup heavy cream
7 oz. semi sweet chocolate, chopped
1 egg yolk
1 teaspoon grated orange peel
2 tablespoons zest of mixed citrus peel (orange, lime, lemon)
2 tablespoons Grand Marnier (or substitute 1 teaspoon Orange extract or to taste)
unsweetened cocoa powder
Directions:
In a small saucepan, combine butter and cream. Over a low flame, heat until the butter melts and the cream bubbles around the edge. Remove from heat, add chocolate. Cover and let stand until chocolate melts. Stir until smooth. Stir in egg yolk*. Mix in orange peel, citrus peel and Grand Marnier. Chill until firm. Roll into balls. Roll balls in cocoa. Refrigerate in airtight container.
Strawberry Lavender Lemonade
Ingredients:
2 1/2 cups water
1 1/2 cups sugar
6 large strawberries, washed and hulled
1/4 cup fresh lavender leaves, chopped
OR 1 tbsp. dried lavender flowers
2 1/2 cups water
2 1/4 cup lemon juice
1/2 cup sugar
Fresh lavender flowers (optional)
Directions:
In a medium pan, combine 2 1/2 cups water, sugar and strawberries. Bring to a boil, stirring to dissolve sugar. Reduce heat. Simmer 5 minutes. Remove from heat. Stir in lavender. Cover and let it set while cooling. When the liquid is cool strain it into a large pitcher-gently smashing the strawberries as you strain. Add the remaining 2 1/2 cups water and lemon juice. Stir well. Add 1/2 cup more sugar, if desired. Just before serving, add ice cubes. Pour into chilled glasses and garnish with lavender flowers.