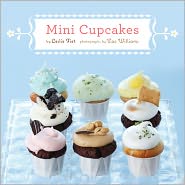 I love cupcakes, there is something about them I just find irresistible. I love all of the different creations there are in the realm of cupcakes. The past few years their popularity has certainly soared, but I have to say I have always loved them. I used to love it when my mom would make cupcakes for us, and we would get to decorate them. Each one of us was able to make our own personal creation that we eagerly devoured upon completion.
Cupcakes have totally transformed into an amazing canvas for expression. You can do whimsical, vintage, retro, decadent, healthy, whatever your imagination can dream of. This book is the collection of recipes for the bakery, Mini Cupcakes. Let me tell you, you are in for a treat with this book. These are hands down the most amazing cupcakes I have ever had. I have been lucky to go to the actually bakery and get them fresh. The smell of decadence fills the entire bakery, it is intoxicating. I was so pleased with these recipes, I was able to exactly recreate the delicious cupcakes I had at the bakery, so if you don't live close to the bakery no worries, you can still enjoy these amazing cupcakes.
If you like cupcakes at all, and lets just be honest, we all do, you want to get this book, you will be so glad you did. There are several things that I love about this book. First I love the size of the cupcakes, when they say mini cupcakes, they mean it, these are two ounce cupcakes. I had to go to a chef supply store to get the special muffin tins, but it is so worth it. Secondly the book is extremely well written, the photos are beautiful and the directions are easy to follow. Finally I love the names of these cupcakes, like "Breakfast at Tiffany's", or "Twisted Sister", "Pretty in Pink", and "Carrie Cosmo" The names of the cupcakes are almost as wonderful as the cupcakes themselves. I guarantee that you will find your signature flavor, (or flavors) that you can recreate in your own home.
I hope you enjoy this book as much as I have. I know you will, I am off to make my favorites, "Carrie Cosmo" and "Breakfast at Tiffany's".