Don't you just feel more relaxed and serene looking at these towels? I am a firm believer in taking good care of yourself, and enjoying the little things. This time of year we are all running around like crazy trying to get ready for the holidays that many times we put ourselves at the very bottom of our lists and forget to treat ourselves to something special.. I know that at times I am a bit neurotic about certain things, one in particular that I have to make just so is my bathroom. I find that a nice warm bath is a great way to unwind from the stresses of the day. I have to admit I do a lot of thinking and reflection there. It is like a little sanctuary.
The majority of the guests to my home comment on my bathrooms, it sounds like a funny thing but it does make me happy having nice bathrooms. Right now I live in a two bedroom, two bath apartment, which really is just perfect for me at this point in my life. I have really been trying to make my home a sanctuary, my own personal retreat. All in all for living in an apartment, it is a pretty nice place to be. One thing that I make sure is just so in my bathroom are the towels. If you have never had a really nice set of towels, treat yourself to them. However once you start using the really nice ones, you will never go back to the bargain ones, so proceed with caution. Towels have to have the right color, the right absorbency, and the right size. I am a huge fan of bath sheets, so much better than the standard towel, and so much more coverage.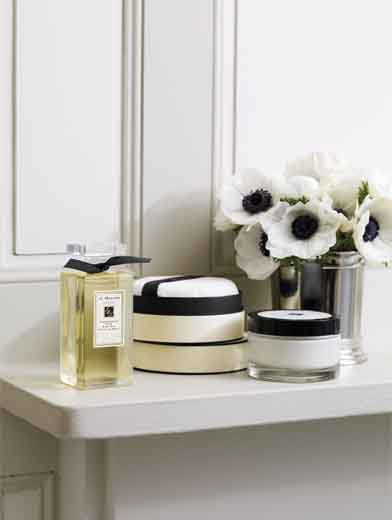 So after you have your towels then you need the body lotions and creams and shower gels and candles. Do not underestimate the power of these indulgences. They will help to transport you to a more serene sanctuary where you can rejuvenate yourself. Besides it lifts your spirits, treat yourself well, you deserve it! A brand that I love is Jo Malone, it may be a little pricey, but so amazing! They have so many different scents, one of my favorites is the Blue Agava & Cacao or the Vintage Gardenia. I combine the two scents and that is actually the perfume that I wear most days. Its very girly, but it suits me. When I smell it I think of pearls and lace and of a more elegant time. I think of formal parlors and tea time. Some scents just evoke so many thoughts and emotions.
Every girl, well everyone for that matter deserves to indulge themselves at times. Sometimes the smallest day to day rituals can make the biggest difference. Do something that makes you feel special, something that helps you relax and unwind. Do not feel guilty about taking time for yourself. I find that I am infinitely more productive when I make sure I get some me time in. It helps keep me sane, and helps keep me grounded. Also it helps me get energized so I can help the people I love and care about more and be able to help and support them. It is the little things, but you are worth it!